Written by Matt Kefford, retrieved from mba.com
Master of Information Technology degrees provide you with an appealing mix of management expertise and technical skills—exactly what some of the world's biggest employers are after.
According to the Graduate Management Admission Council's Corporate Recruiters Survey, leadership and interpersonal skills, combined with the ability to manage technology, are some of the most in-demand skills sought after by employers today.
MS in Information Technology programs combine management and leadership training with lessons in technology, analytics, and big data, and are often delivered by business schools in partnership with computer science departments.
So, what can you do with a Master of Information Technology? What salary can you earn after graduation? And what kind of information technology jobs await you? Here's everything you need to know about Masters of Information Technology:
Who is a Master of Information Technology for?
A Master of Science in Information Technology is a good fit for students with a technical background looking to develop management skills.
Candidates usually hold STEM (science, technology, engineering, math) related undergraduate degrees, though schools also consider students from business and liberal arts backgrounds.
Programs attract students from around the world, with varying experience levels. At Carnegie Mellon University (CMU), the Master in Information Systems Management cohort welcomes students from 35 countries. The program offers a 16-month track for undergraduate level candidates with no experience, and a 12-month track for those with three or more years of work.
At MIT, Sloan School of Management and the School of Engineering offer a technology master's, the Master in System Design and Management, aimed at students with a minimum of five years of work experience.
The highly regarded program aims to "prepare early and mid-career professionals to be the technically grounded senior leaders of their enterprises," says Joan Rubin, executive director of the program.
Types of Master of Information Technology
Master of Information Technology
The Master of Information Technology is usually a full-time course, aimed at technically minded students looking to develop their leadership skills. Graduating from a program will provide you with the management skills to lead organizations alongside more in-depth training in information technology than you would get from a traditional business degree.
Online Master of Information Technology
Online Master of Information Technology degrees offer the same skills and expertise with an extra level of flexibility. Students can complete the course online from anywhere in the world. Some courses are 100 percent online, while others may include a small portion of in-person teaching.
Master of Information Technology syllabus
The Master of Information Technology curriculum "focuses on core concepts of computing and business," according to Jean-Claude Franchitti, associate director of the Master in Information Systems at New York University. "It emphasizes the development and management of software projects in the workplace," he says.
MS in Information Technology degrees are split into a core component studied during the first half of the program and an elective period taking place over the second part of the course.
Core modules include:
Software design
Data management
Financial management
Project management
Big data
Programming and app development
Distributed programming
Data analytics
Business innovations
Strategic IT and change management
IT security, policy, and compliance
During the elective period, you'll choose from specialist modules covering a range of topics including the Internet of Things, Blockchain, and fintech.
Business schools teach using a blend of theoretical and practical learning, with students able to gain real-world work experience via internships and company projects. Most programs culminate in a capstone project, where students put everything they've learned during the program into practice.
Jean-Claude from New York University says the school's capstone project "offers students real world experience with developing innovative IT solutions to business problems via participation in a set of team projects at local corporations, non-profits, and government agencies."
Master of Information Technology jobs & salary prospects
There will be 500,000 more information technology jobs in the United States by 2029, making a Master of Information Technology a great basis for your career plan.
Typical jobs for MS in Information Technology graduates include:
Data analytics manager
Computer and information systems manager
IT risk manager
Cyber security analyst
Business intelligence analyst
Software engineer
Your diverse skillset means you'll also be able to work in industries beyond technology. Thirty-five percent of graduates from Carnegie Mellon's Master in Information Systems Management get jobs in tech, while 18 percent go into consulting at companies like McKinsey and EY, and a further 12 percent get jobs in finance at firms like Morgan Stanley and Barclays.
Most of the world's top companies offer information technology jobs. In 2020, students from the MSc in Information Technology and Management at the University of Texas at Austin: McCombs School of Business were hired by big-name companies like Amazon, Oracle, and LinkedIn.
The average starting salary for US graduates from McCombs' program was US$106,250. For international graduates, the average salary was US$91,546, although salaries vary significantly by school and location.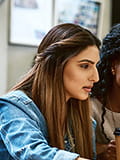 WHAT ARE THE HIGHEST PAYING BUSINESS MASTER'S DEGREES?
If you're thinking of applying to business school before launching your career, check out our list of the highest paying business master's degrees.
A Master of Information Technology can also earn you c-suite roles like chief information officer and chief technology officer—among the best paid jobs in the technology industry—which are rewarded with huge salaries ranging anywhere from US$150,000 to US$250,000 in the US.
Master of Information Technology cost & ROI
A place on a top US program like the NYU MSc in Information Systems costs around US$79,000, while at CMU the figure is just over US$75,000. At McCombs, Texas residents pay US$43,000 in tuition, compared with US$48,000 for out-of-state students.
Studying outside of the US also means more affordable fees. The prestigious London School of Economics offers an MSc in Management of Information Systems and Digital Innovation, costing US$42,719. Warwick Business School's MSc in Management of Information Systems and Digital Innovation costs US$34,493 for UK students and US$41,391 for overseas students.
While US schools are more expensive, graduates tend to earn higher salaries. The lower costs and lower salaries in Europe mean your return on investment will be similar, so applying to either destination should still result in a strong return on your investment.
Schools also provide bountiful scholarships and financial aid packages to help with program costs. Plus, the ROI of a Master of Information Technology extends beyond immediate financial considerations alone, with the learning, experiences, and the network you'll strike up at business school paying off further down the line.
Master of Information Technology admission requirements
Typical Master of Information Technology admission requirements are:
Undergraduate degree
Work experience (varies by school)
Business schools tend to favor a background in a STEM related field, though you will still be considered with a strong application if you have a different background.
The application process requires you to fill in an application form, upload your résumé, answer an essay question, and submit your personal information and transcripts for your previous education.
Schools typically accept GMAT scores, which are taken into account along with the rest of your application. While GMAT scores are important, if you have a below average GMAT score but strong work experience or a high GPA, you'll still be considered.
Use our business school application checklist and timeline to nail the admissions process and access useful mba.com resources right when you need them.
So now you know what a Master of Information Technology is, and the finer details from salary prospects to admission requirements, the next step is finding the right school for your Master of Information Technology, and beginning your application.