Retrieved From: " Top 10 Careers in Public Safety Administration"
A public safety administration degree completion program is unique in that it's designed for adults currently working in the fire service, law enforcement, and emergency medical services fields.
In other words, many public safety administration programs have an expectation upon admission that professionals have prior training or even education directly related to these fields.
Professionals who pursue a public safety administration degree are then prepared to pursue competitive, leadership roles in public safety, such as public safety managers, health services managers, or emergency management directors — but your options don't stop there. Let's dive into 10 of the most sought-after careers existing in the field of public safety administration.
REWARD YOUR CURIOSITY: DOWNLOAD PUBLIC SAFETY ADMINISTRATION — A GO-TO GUIDE FOR ADULT LEARNERS PASSIONATE ABOUT PUBLIC SERVICE.
WHAT IS PUBLIC SAFETY ADMINISTRATION?
So, what is public safety administration? Sometimes confused with the field of public administration, it's important to understand that the two fields are not interchangeable. Public administration focuses on policymaking and prepares civil servants for work in the public, private, and nonprofit sectors. Public safety administration, on the other hand, is a niche area of study that focuses on nurturing and sharpening the skills needed to meet the challenges in public safety structures.
This field is in need of ambitious, results-driven professionals who have the skills needed to make a real difference in the lives of others — skills that are cultivated by pursuing an advanced field of study in public safety administration.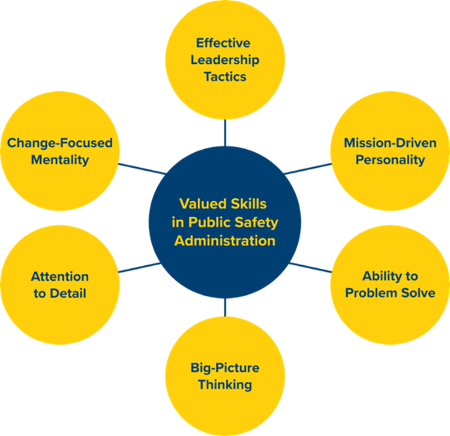 10 PUBLIC SAFETY ADMINISTRATION JOBS:
Let's explore 10 careers that are perfect for professionals who A) have a background in public safety, B) choose to go back to college, and C) graduate with a public safety administration degree.
1. CHIEF SECURITY OFFICER
Chief Security Officer — "A CSO is the highest-level executive directly responsible for an organization's entire security function."
2. EMERGENCY MANAGEMENT DIRECTOR
Emergency Management Director — "Emergency management directors prepare plans and procedures for responding to natural disasters or other emergencies. They also help lead the response during and after emergencies."
3. LAW ENFORCEMENT OFFICER
Law Enforcement Officer — "Police officers protect lives and property. Detectives and criminal investigators gather facts and collect evidence of possible crimes."
4. EMERGENCY MEDICAL TECHNICIAN
Emergency Medical Technician — "Emergency medical technicians (EMTs) and paramedics respond to emergency calls, performing medical services and transporting patients to medical facilities."
5. FIREFIGHTER
Firefighter — "Firefighters control and put out fires and respond to emergencies where life, property, or the environment is at risk."
6. CORRECTIONAL OFFICER
Correctional Officer — "Correctional officers oversee those who have been arrested and are awaiting trial or who have been sentenced to serve time in jail or prison."
7. SECURITY GUARD
Security Guard — "Security guards and gaming surveillance officers patrol and protect property from illegal activity."
8. OCCUPATIONAL HEALTH & SAFETY SPECIALIST
Occupational Health & Safety Specialist — "Occupational health and safety specialists and technicians collect data on and analyze many types of work environments and work procedures."
9. SOCIAL & COMMUNITY SERVICE MANAGER
Social & Community Service Manager — "Social and community service managers coordinate with social service programs and community organizations."
10. DISPATCHER
Dispatcher — "Police, fire, and ambulance dispatchers, also called public safety telecommunicators, answer emergency and nonemergency calls."