Guide to Working at Adobe was originally published on uConnect External Content.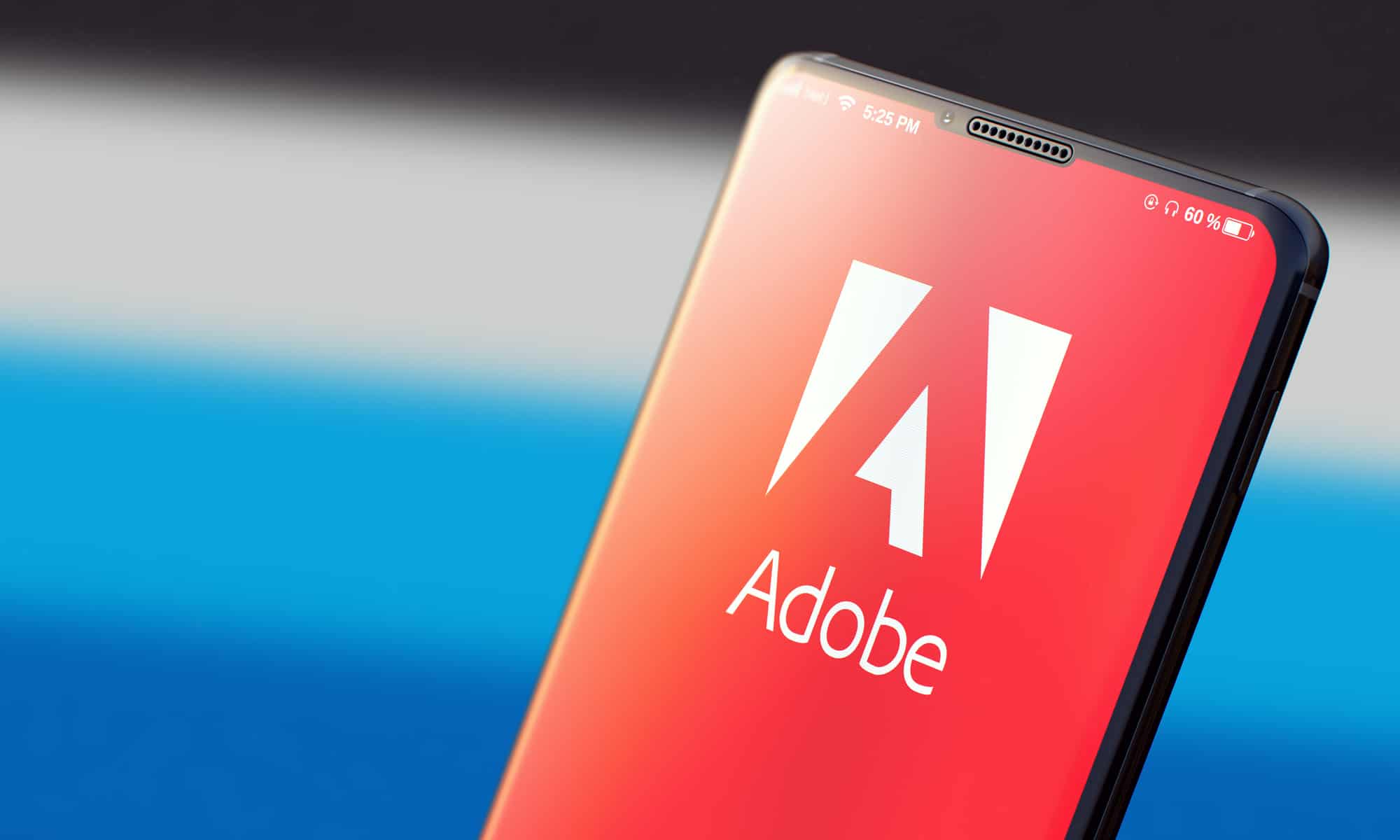 When you think of Adobe, you may think of .pdfs or of Photoshop. And while it's true these are some of the main products, Adobe is so much more as a company. Adobe got its start working with digital fonts and has grown into a worldwide company that provides creative software used nearly everywhere.
If you're considering pursuing an internship or job at this well-known company, learning what working at Adobe is like can help you decide if it's the right fit for you. This guide breaks it all down:
What Is Adobe?
Originally named Adobe Systems Incorporated, Adobe was established in 1982 by John Warnock and Charles Geschke in Warnock's garage. The two founders left Xerox to develop the PostScript page description language (licensing the Helvetica and Times Roman fonts for the project). Interestingly, the company got its name from the Adobe Creek, which ran behind the founders' homes, and Warnock's wife designed the original logo.
That same year, Steve Jobs tried to buy the company for $5 million. Warnock and Geschke declined, but Adobe's investors wanted the cofounders to come to some kind of agreement with Jobs. So, they sold 19% of the company to him, making Adobe the first Silicon Valley company to be profitable in its first year.
In 1985, Apple licensed the PostScript technology to use in its LaserWriter printers. Thanks to this integration, the technology quickly became the international standard for computer printing, and desktop publishing was born.
Other creative products soon followed. Adobe Illustrator (a vector-based drawing program) was the first consumer product. The company launched Photoshop in 1989, and Adobe Acrobat and Reader in 1993. Though originally you had to buy the operating discs at a store, Adobe eventually evolved into an SaaS company that's now synonymous with creative and publication software.
Get noticed by top recruiters
Explore Forage's free virtual work experience programs.​
Currently headquartered in San Jose, the company employs more than 26,000 employees around the world (as of 2022). In 2022, the company's revenue was $17.61 billion — a whopping 12% year-over-year growth — and is targeting $19.1 to $19.3 billion in revenue for 2023.
Student and New Graduate Opportunities at Adobe
Adobe has student internships in a variety of fields and hires new graduates (people with zero to five years of experience). You can find these opportunities on Adobe's career page by filtering the results by Experience Level (choose "University Intern" or "University Graduate") and location.
Internship Benefits
It's worth noting that Adobe's internships are paid. Most internships are full-time, and interns earn an hourly wage that's determined by the position, job duties, and location. A recent sampling of open internship opportunities showed pay rates ranging from $26 per hour to $54 per hour.
Adobe also offers benefits to interns. Some of the highlights include:
Holiday pay
10 days paid sick time
Access to the employee assistance program
Eligible for medical benefits after 90 days if you work more than 24 hours per week (costs $25 per paycheck)
Matching contributions to a 401(k)
Discounts on Adobe products
Commuter benefits
Landing an internship at Adobe can be a competitive process On Comparably, over half (54%) of respondents said that getting an engineering internship specifically was "somewhat difficult." That said, the same group also said that 73% developed close friendships with coworkers, and 58% reported having a mentor.
Of the over 8,000 reviews on Glassdoor for Adobe, over 200 are about internships, with an overall intern rating of 4.8 out of 5 stars.
The positive reviews for Adobe internships are likely due to how Adobe treats and views interns. One of the company's philosophies is, "Good ideas can come from anywhere in the company," and Adobe is more than happy to implement ideas from interns. More than 30% of Adobe's U.S. patent fillings include intern contributions.
Adobe also hosts an annual Intern Summit. Interns from around the world travel to the global headquarters to meet and network with each other, speak to top leadership, and participate in career development programs. They also present their projects to the company and get some Adobe swag.
Undergraduate Internships
To apply for an internship at Adobe, you'll search for opportunities on the career page. There are plenty of internships available across nearly all of Adobe's teams, with specifics depending on the department and role.
In general, you must be enrolled at an accredited college or university and pursuing a bachelors degree. If you're pursuing a masters degree but not an MBA, you may also be eligible for these internships.
>>MORE: Ultimate Guide to Internship Application Deadlines
Adobe is currently using a "colocated hybrid" model of work, which means you'll be required to work in the office two to three days per week. The other days, you'll have flexibility to work from home or the office. This means you must live within commuting distance of an Adobe office, but not all internships are available in every office.
Adobe Sales Academy
The Adobe Sales Academy is open to anyone interested in a career in sales. Located in Adobe offices around the world, this is a full-time position that lasts several months while you rotate through various sales positions learning the ins and outs of each role.
You'll be paired with a mentor, and spend the first part of the program learning how to grow and improve your sales skills. After onboarding, you'll put your new knowledge to work as a business development representative and learn how to develop new relationships, build a sales pipeline, and qualify opportunities.
The next phase of the program has you work as an inside sales representative. In this role, you'll learn more about managing the full sales cycle, including managing renewals and closing deals. From there, you'll move into an account executive role and sent into the field to find, manage, and close deals with customers.
>>MORE: Explore all Free Sales Virtual Experience Programs
MBAs at Adobe
Adobe also has internship opportunities for full-time MBA students. Available across a variety of teams, these internships give participants a deep-dive into Adobe products and strategies. Interns will develop their leadership skills and explore career paths.
You'll be responsible for designing and leading a project from start to finish. Though the specifics vary based on what team you intern with, all participants collaborate with other departments to complete their project. Most MBA internships are also colocated.
Fellowships
Adobe also has two fellowship opportunities available through Adobe Research.
Women in Technology Scholarship: Open to people who identify as female, candidates must be at least a second-year undergrad or masters degree student majoring in computer science, computer engineering, or a closely related field. Winners receive $10,000 and the opportunity to interview for an internship.
Adobe Research Fellow: The fellowship is open to full-time and currently enrolled graduate students pursuing a Ph.D. Winners receive $10,000 and the opportunity to interview for an internship.
Adobe Jobs and Salaries
Two aspects of Adobe's pay stand out. First, salary is tied to geography. Where you live determines the pay band you're eligible for. Second, as part of its diversity, equity, and inclusion (DEI) efforts, Adobe is committed to pay parity between males and females globally, as well as between underrepresented minorities and non-underrepresented minorities in the U.S.
To that end, Adobe defines pay parity as "ensuring that employees in the same job and location are paid fairly relative to one another, regardless of their gender or ethnicity." The company started the U.S. program in 2017. By October 2018, Adobe had achieved its goal of worldwide pay parity throughout the company between genders and by 2020 for ethnicity.
Adobe reviews its pay structure every year, and 2022 marked the fifth consecutive year the company had achieved its parity goals between genders. To help maintain pay parity, Adobe no longer asks candidates about their salary history and regularly reviews salary increases.
>>MORE: Interview Questions, Answered: 'What Are Your Salary Expectations?'
Teams at Adobe
Adobe is divided into several functional teams, and within each team are various roles and job opportunities. Here are each of the teams with some sample career areas:
Engineering and product: data science, information technology, product engineering, cloud platform engineering
Design: experience design, content strategy, design operations, team operations
Research: artificial intelligence and machine learning, data intelligence, content intelligence, AR and VR
Sales and customer experience: digital strategy, strategy, operations and enablement, sales, professional services
Global marketing and strategy: internal communications, brand marketing and advertising, corporate strategy, growth marketing and insights
Finance and operations: tax, investor relations, financial planning and analysis, business model strategy and pricing operations
Legal and government relations: compliance, corporate law, enterprise and digital experience, government relations and public policy
Employee experience: global talent, business partnerships, diversity and inclusion, employee and workplace solutions
Adobe Salaries
With so many teams at Adobe, there is a vast array of salary ranges, but your pay is partly determined by your location and your experience. Here are some sample job titles and a range of total compensation (base salary plus bonus, commission, etc.) from Glassdoor:
Software engineer$164,000$256,000Machine learning engineer$156,000$251,000Software developer$151,000$242,000Product manager$176,000$282,000Project manager$139,000$222,000
Keep in mind that this is self-reported information across a variety of experience levels and may not reflect the salary range for a new graduate with relatively little experience.
Adobe Benefits
Because Adobe is a global company, benefits vary by country. However, if you're working at Adobe in the U.S., employees have access to benefits like:
Stock purchase plan with purchase price locked for two years and a minimum 15% discount
401(k) with a 50% company match for the first 6% of your pay
Discount on Adobe software purchases (and you can donate this purchase to nonprofits)
Medical, dental, and vision insurance
Wellness reimbursement of up to $600
Unlimited PTO plus 11 paid holidays, six global well-being days, and two company shutdown weeks each year.
Flexible and hybrid work options
16 weeks paid leave at 100% for new parents, in addition to paid medical leave for birth mothers
Fertility benefits
$25,000 in adoption reimbursement
20 days per month of subsidized backup childcare
Up to $10,000 reimbursement for academic degrees, credential programs, and other certifications
Up to $1,000 for professional development
Donation matching of up to $10,000 per year
Across the board, employees generally rate the benefits as excellent. On Glassdoor, Adobe benefits have a 4.7 out of 5 star rating and on Indeed, it's 4.2 out of 5 stars.
Adobe Culture
Adobe has four core values:
Genuine. Everyone is sincere, trustworthy, and reliable.
Exceptional. The company creates exceptional experiences that delight customers and staff.
Innovative. The company always tries to connect new ideas with business goals.
Involved. Adobe is inclusive, open, and actively engaged with staff and customers.
Given that these values are employee-oriented, it's no surprise the company is consistently ranked as an excellent company to work for, as evidenced by the many awards it has received:
Outside of awards, Adobe employees generally have a favorable opinion of working at Adobe and the company's culture. On Comparably, the overall rating for Adobe is 4.9 out of 5 stars, or an A+. It ranks in the top 5% of similarly sized companies for diversity, and the current CEO receives a 93 out of 100, also an A+ rating.
Staff give the company a 94 out of 100 for perks, 92 out of 100 for happiness, and a 90 out of 100 for compensation. In terms of "happiness," 93% of Adobe employees say the company's goals are clear, and 88% are happy to go to work every day. Overall, 96% say they are satisfied with their benefits, while 86% say they are paid fairly. And 82% feel they have meaningful opportunities for professional development.
>>MORE: Check out Forage's professional development virtual experience programs.
The MIT Culture 500 survey found that the most positively discussed cultural attribute is innovation, closely followed by collaboration. Agility is the most frequently discussed attribute overall, but it's also discussed most negatively.
Adobe is also a certified Great Place to Work, with 92% of employees weighing in on its greatness. Employees also say the following:
96% are proud to tell others they work there
94% say management is honest and ethical
94% say they can take time off when needed
94% say people care about each other at the company
Performance Evaluation Process
Adobe used to use annual performance evaluations. However, based on employee feedback, the company eliminated traditional reviews in 2012 and replaced them with "Check-in."
Employees reported disliking annual performance reviews, stating that the formality of the process was cumbersome. In addition to the administrative tasks, staff reported that being rated and stack-ranked for compensation and bonuses negatively impacted teamwork, and people felt undervalued. Moreover, employees didn't want to wait until the end of the year to find out what they should continue doing and where they need to improve.
As a result, Adobe created Check-In, an ongoing, two-way conversation between employees and their managers. Check-in allows for continual, year-round performance reviews. This helps employees better map out a career path they want and exchange valuable feedback with their supervisor more often than one time at the end of the year.
>>MORE: What Is Career Planning?
Diversity, Equity, and Inclusion
In addition to ensuring pay is equal, Adobe is equally committed to increasing the number of women and underrepresented minorities it hires.
To help create a diverse and inclusive candidate pool, Adobe attends conferences to source and recruit typically underrepresented minorities. Some examples are:
AfroTech
Black is Tech
Grace Hopper Celebration of Women in Computing
Lesbians Who Tech Summit
Women Hack
Women in Product
Tapia Diversity in Computing Conference
Adobe has also partnered with several organizations to diversify the company's candidate pipeline:
National Society of Black Engineers
Vets in Tech
BreakLine
HBCU Partnership Challenge Braintrust
Project Hired
GEM
And finally, Adobe is committed to recruiting at a diverse group of colleges and universities and has made significant efforts to recruit from historically Black colleges and Hispanic serving institutions.
How Does the Adobe Interview Process Work?
The interview is your first introduction to the company and should give you an idea of what it would be like working at Adobe. On Comparably, 83% of reviewers said that the interview process gave them a good idea of what the day-to-day culture at Adobe was like.
Thought the interview process may vary by role, level, and department, here's what applicants can generally expect.
The company encourages job seekers to apply for a job they're interested in and, "If there isn't a match on your first application, try again."
Once you find a role that's a good match for your skills, a recruiter will set up a phone interview. While this is a chance for the recruiter to learn more about you and your interests, Adobe stresses that the phone interview is also a time to ask your own questions.
Just as with the application, Adobe encourages job seekers to apply for another role if the recruiter determines you aren't a good fit after the phone interview.
If the recruiter determines you're a match, you'll meet with the hiring manager for a deeper conversation about the job. Depending on the role, you may receive an assessment to complete at home, so you have a better understanding of what it's really like working at Adobe.
After the initial interview with the hiring manager, you'll be invited for face-to-face interviews with the rest of the team. This is an excellent opportunity to learn more about your potential new coworkers and discover how the team interacts.
Finally, you'll receive a decision from your recruiter. If you're selected for the job, you'll receive a verbal offer. From there, you'll have to agree to a background check, a conflict of interest survey, and provide references.
If you aren't offered a job, your recruiter will give you feedback to help you learn and grow as you continue your job search.
Key Takeaways
Adobe has created several well-known and commonly used creative software programs.
Adobe offers internship opportunities across an array of teams for undergraduates, graduate students, and MBA students.
Interns are paid and eligible for many benefits.
The benefits package at Adobe is highly rated by employees.
The Adobe culture is founded on four core values: genuine, exceptional, innovative, involved.
Adobe has committed to pay parity and regularly reviews its progress toward that goal.
Image credit: Depositphotos.com / tashatuvango
The post Guide to Working at Adobe appeared first on Forage.